09 Apr

How to Create Mautic Segment Filter – Mautic Segment Step-by-Step Guide

What is Segment?

Segmentation is a technique to separate your customers into different groups based on various parameters and configurations.  Mautic segment can be based on location, demographic, behavior, their income, interest and much more. 

Segments can be very helpful these days for business to organize contacts easily based on the variety of fields. 

Here're different types of segmentations in Mautic you can use for your contact segregation. 

Segment by Geographic: It segregates users based on Zones, Towns, Cities, States, Countries, Continents, etc.

Segment based on activity: 

It lets you segment users based on their activity on your website such as number of pages visited by users, forms user filled in or emails sent by Mautic that he read and more.

Segment based on data from social media: Mautic let you segment your data according to different social media platforms. You can also segregate by their age, gender and social media ads by use of Mautic UTMs. 

To apply segmentation to your contacts you must have some data in your Mautic. To add contacts in Mautic you can read our article How to import contacts.

How To Create Mautic Segment Filters:

Here are the steps you can follow to create the Mautic Segment.

Step 1: Login to Mautic. Go to the Segment option from the left navigation bar. And click New to create a New Segment. 
Step 2:   In the Details section, add all the necessary details such as Name, Alias, and Description of your segment, then click on Filters.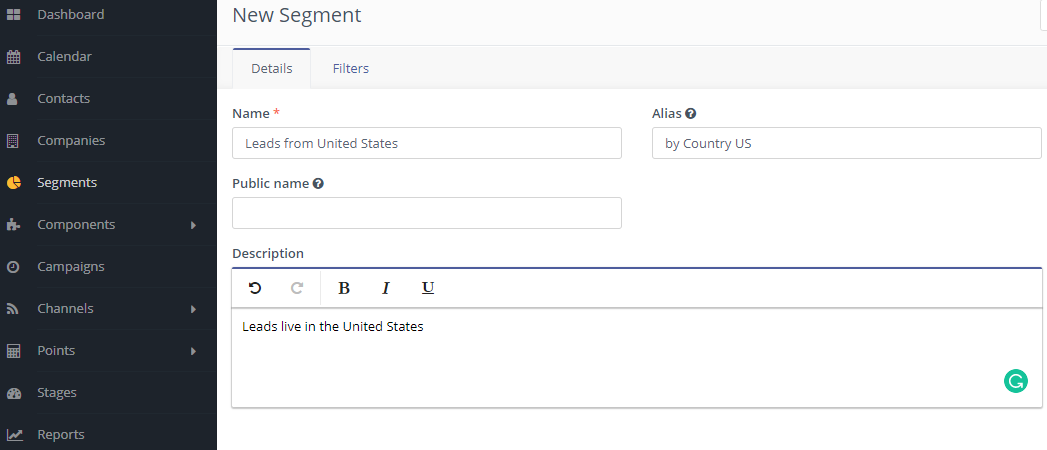 Step 3: In the filters section, add the conditions in your segments based on your requirement for user segmentation. You can add multiple conditions for a single segment. 
This will add a contact in the respected segment if the contact fulfills the condition of the segment.
Once you add your segment condition, save and your segment will be created.
Done!
Mautic will now add to this segment all the contacts which meet your segment condition. Also, all new users will be evaluated based on condition. 
Depending on your business and your audiences, Mautic segmentation for your contacts will vary. 
If you have any queries or need any Mautic related help please reach out to me.